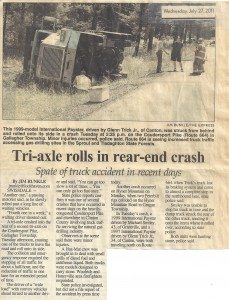 By Jim RUNKLE
[email protected]
SWISSDALE – "Another one," a passing motorist said, as he slowly rolled past a long line of waiting vehicles.
"Fourth one in a week," a waiting driver shouted out.
A tri-axle crashed into the rear Of a second tri-axle on the Coudersport Pike, Gallagher Township, Tuesday afternoon, causing one of the trucks to leave the road and roll onto its side.
The collision and emergency response required the stopping of all traffic for about a half-hour, and the redirection of traffic to one lane for an extended period of time.
The driver of a "wide load" with convoy vehicles ahead turned to another driver and said, "You can go too slow a lot of times … You
can only go too fast once."
State police reports confirm it was one of several crashes that have occurred in recent days on the heavily-congested Coudersport Pike and elsewhere in Clinton County involving truck traffic servicing the natural gas drilling industry.
Observers at the scene said there were minor injuries.
A Haz-Mat Clew was brought in to deal with small spills of diesel fuel and antifreeze liquid. Both trucks were models designed to carry stone. Woolrich and Haneyville area firefighters responded.
State police investigated, but did not a file report of the accident by press time today.
Another crash occurred on Hyner Mountain on Monday, when two Peterbilt rigs collided on the Hyner Mountain Road in Grugan Township.
In Tuesday's crash, a 1999 International Paystar driven by Michael Smiley, 43, of Grantville, and a 1997 International Paystar driven by Glenn Trick Jr., 34, of Canton, were both traveling north on Route 664 when Trick's truck lost its braking system and came to almost a complete stop in the northbound lane, state police said.
Smiley was unable to stop his truck in time and the dump truck struck the rear of the other truck, sending it onto the berm where it rolled
over, according to state police.
Both units were hauling stone, police said